I have always taken pictures – since I was about 12 – pictures of anything and everything.  From late night street B&W's Stills to Concert Photography; Music CD Covers; Celebrity Portraits; Websites; Martial Arts School Plaques; Entertainment; Stock; Red Carpet Movie Premiers and more.
My passion has shifted now to Photo Collage…combining my own photographs, to make interesting Original Artwork Images, and printing them out on canvas.  This allows the viewer to 'look until they see'- finding their own interpretation of the images, or hearing about my own.
A personal collection that I started about 8 years ago continues…'Beach Box' Art (more commonly known as Assemblage Art) is another type of story telling by adding my bits of lost and found treasures together with my photographs and digital graphics to form a story box collage.  I'd like to show these some day as an eye-candy collection.
APSA also shows work at Rubyeyes Kraftwerks in Port Stanley, and Chef Kim Saunders, owner of The Windjammer regularly supports Regional Artists by displaying their work in her dining room and cafe/bar.
In addition to our Art Shows from May through the September, I'm pleased to announce that our 2nd Annual "Off The Wall…and Off The Vine" Art Show at the Quai du Vin Estate Winery July 17, 2016 was well received!  Thanks to our many Artists, Volunteers, Family, Friends, Sponsors and Mother Nature, we've been invited back to Quai du Vin next Summer for our 3rd Annual "Off The Wall" Art Show, scheduled for

Sunday, July 16, 2017

!  Many photos of our two shows are viewed on our Off The Wall website.  Details on how to be part of this wonderful outdoor Summer Event will be posted on the website in January, 2017.  Please pass the message on to your favourite Artist Enthusiasts in your area.
Thank you to all that support APSA, and to all of you that have helped me along the way.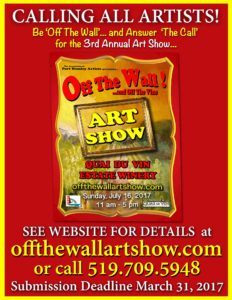 Calling Artists!  Local and Regional Art show at
Quai du Vin Estate Winery.