OFF THE WALL.. & OFF THE VINE Call for all Artists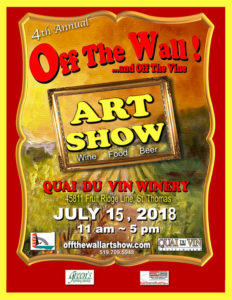 The Association of Port Stanley Artists (APSA), and the Quai du Vin Estate Winery are pleased to announce the 4th Annual "Off The Wall…and Off The Vine" Art Show, 

Sunday July 15, 2018

!
Last year, we had a great mix of original Art Mediums from some newcomers to Off The Wall and lots of returning Artists.  We're proud of the level of professionalism shown in the original work and displays from the OTW Artists, and we're looking forward to seeing your best new creations in 2018! 
NEW this year, we hope to increase the number of participating Artists by offering the option for those in the individual tents to share their space with one other Artist, or showcase their work on their own.  This will not be offered in the Big Top Tent, where there will only be 1 Artist per the 10×10 ft space.
The Call to Artists will remain open from 

January 1 through February 28th

.  At that time we will make our Artists selections for participation in the July 15th event, and contact all of the Artists that have applied.
The Application has changed since last year, so please refer to it when sending in your application information and image submissions.  We will be posting the Call To Artists on our OTW website and a new Facebook page will be set up.
We're really looking forward to our 4th season and can't wait to hear from you!  See the Guidelines and Application shown below.
Happy New Year 2018 ~ Together, Let's Make It Happen!
APPLICATION GUIDELINES:                        
CALL FOR IMAGE SUBMISSIONS – 
OPEN FROM 

JANUARY 1st TO FEBRUARY 28th, 2018
To Individual Artists, Art Groups, Guilds & Galleries in Southern Ontario and beyond… 
OUTDOOR ART EXHIBITION

The Association of Port Stanley Artists (APSA), sponsored in part by the Quai du Vin Estate Winery, is currently accepting image submissions from Artists who wish to participate in the "OFF THE WALL…AND OFF THE VINE" Art Show & Wine Celebration at the Quai du Vin Estate Winery, 45811 Fruit Ridge Line, St. Thomas, Ontario. This event will be held on Sunday, July 15, 2018, from 

11 am to 5 pm.
OUR GOAL                                             
~ To continue our Annual Celebration of Art, Quai du Vin Wine, Food, Music & Fun in Elgin County.
~ To bring a Community of Local and Regional Artists together to feature Original Art for Sale. 
~ To provide a new and exciting forum for Artists to share ideas, and connect with a new and diverse customer base for their work.
ACCEPTED ART MEDIUMS
Mediums include Original works of:  Acrylic & Oil Painting, Watercolour, Mixed Media (2 and 3D), Photography, Glass Work, Metal, Stone or Woodworking, Clay, Pottery, Ceramics, Textiles, Graphite Pencil, Steampunk Design, Sculpture and Original Jewelry.  All works must be for sale by the participating Artist.  Sorry, no Crafters or Store Vendors.
TENT DISPLAY SPACE
Artists have the opportunity to utilize a 10'x10' space under the 'Big Top' Tent (40' x 100'), or they may bring their own individual 10'x10' pop-up style art tents that can be set up on the adjacent grounds.
NEW THIS YEAR  
Selected Artists in Individual 10′ x 10′ Tents have the option of sharing their tent with one other Selected Artist.  All participating Artists are required to pay $50 whether they are sharing an individual tent or not, or in the Big Top Tent.  
All works should be suitable for display outdoors, and appropriate for all audiences.  Artists must bring their own display tables and chair(s).  Note that this is a one day only rain or shine event. 
Visit the OTW Photo Pages on this website to view the venue.  En Plein Air Painting as well as Artist's Demonstrations and Installations are welcome. Contact us for details.
NOTE ABOUT ORIGINALITY
ALL Artists selected for this event are to display only one-of-a-kind work for sale (no Editions please).   Art Cards / Postcards are the exception.
       APPLICATION FOR ALL ARTISTS ~ HERE'S HOW TO APPLY:
1.   Via email, send us your name, home address, phone number.
2.   New Applicants – send a brief Bio about your art background and how you heard about us.
3.   Artists must submit 3 jpeg images (size 1024 x 768 pixels at 72 dpi) of recent work that reflect the  style you'd display.  (Optional for returning applicants).
4.   Include the title, size, medium and approximate price of each image submitted. 
5.   Of these four options, would you be interested in…
    – having your own pop-up Individual Art Tent for yourself only?
    – sharing your tent with another Artist known to you? (Artists must apply separately).
    – looking for another Artist to share a tent with?
    – require an individual space in the Big-Top Tent?  (Space is limited.  We encourage you to apply early).   
7.   Write 'OTW Application' in the subject line of your email.
8.   Applications must be received by email no later than Feb. 28 at 5 pm.          
9.   A Selection Committee will make the final decisions on the Artists acceptance to participate in the OTW event during the first week of March.  A reply will be made to all applicants.
10. ONCE SELECTED TO PARTICIPATE, you will be notified via email on or before 

March 7

 with further instructions on how to register for admission to the 

July 15, 2018

 Art Show, and to make your one-time, non-refundable payment of $50.  
Be 'Off The Wall'…and 'Answer The Call'…
Together we will make this event an Art Show Not To Be Missed!
Thank you!
The OTW Admin Team