ABOUT US
The Association of Port Stanley Artists is a group of artists and artisans living in the beautiful Lake Erie  village of Port Stanley, Ontario.  We have been established for six years now and are going strong. APSA artists work in a variety of different mediums including oil, watercolour, acrylic, mixed media, photography, glass, textiles, and sculpture. We are dedicated to creating original art and artisan works of top quality.
Our outdoor summer shows have been a staple of the busy tourist season in Port Stanley. However, this year, we have decided to do an exclusive indoor group show at the Royal Canadian Legion on Saturday, September 16, 2017. 
APSA is excited to announce our second annual Art Show and Sale at the Royal Canadian Legion early in the fall!
Saturday, Sept. 8, 2018.
11:00 am to 7:00 pm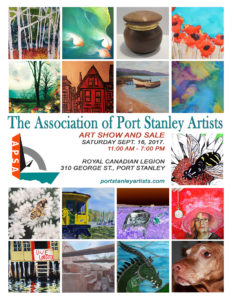 Our big regional APSA Event  OFF THE WALL and..OFF THE VINE Art Show at the Quai du Vin Winery Estate, was a huge success with 50 artists participating on Sunday July 16, 2017. This was a our third annual show and it was definitely the biggest and the best so far!
Please go to offthewallartshow.com to see our artists, our sponsors, and photos of the event over the past three years.  APSA organizers Penny Crichton, Kim Yuhasz, Sharron Russell, and Marcia Pensa are already thinking that Sunday July 15, 2018 will be an excellent day for the 4th annual OFF THE WALL...and OFF THE VINE Art Show and Sale at Quai du Vin Estate Winery.
Newest Articles VIEW ALL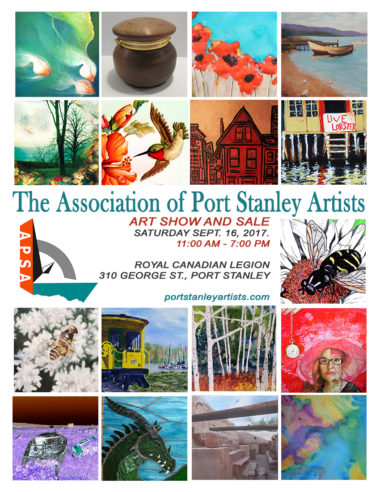 The ASSOCIATION OF PORT STANLEY ARTISTS proudly presents a one-day free art show at the Royal Canadian Legion in Port Stanley Ontario. Head over the bridge and see us at the Legion to your left. The show, from 11 am to 7 pm, Saturday, Sept. 8, 2018,  features resident artists of Port Stanley displaying their […]