ABOUT US
The Association of Port Stanley Artists is a group of artists and artisans living in the beautiful Lake Erie  village of Port Stanley, Ontario.  We have been established for six years now and are going strong. APSA artists work in a variety of different mediums including oil, watercolour, acrylic, mixed media, photography, glass, textiles, and sculpture. We are dedicated to creating original art and artisan works of top quality.
Our outdoor summer shows have been a staple of the busy tourist season in Port Stanley. Last year, we  decided to do an exclusive indoor group show at the Royal Canadian Legion in September of 2017.  It was such a success that we are going to do it again!
APSA is excited to announce our second annual Art Show and Sale at the Royal Canadian Legion early in the fall!
Saturday, Sept. 8, 2018.
11:00 am to 7:00 pm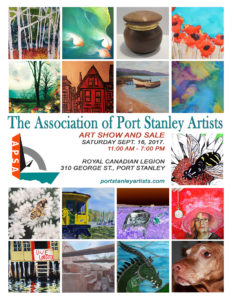 APSA is CALLING FOR

ALL

AREA ARTISTS TO PARTICIPATE IN OUR
OFF THE WALL...and OFF THE VINE SUMMER ART SHOW  & SALE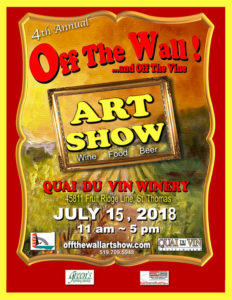 APPLICATION GUIDELINES:                        
CALL FOR IMAGE SUBMISSIONS - 
OPEN FROM 

JANUARY 1st TO FEBRUARY 28th, 2018
To Individual Artists, Art Groups, Guilds & Galleries in Southern Ontario and beyond... 
OUTDOOR ART EXHIBITION

The Association of Port Stanley Artists (APSA), sponsored in part by the Quai du Vin Estate Winery, is currently accepting image submissions from Artists who wish to participate in the "OFF THE WALL…AND OFF THE VINE" Art Show & Wine Celebration at the Quai du Vin Estate Winery, 45811 Fruit Ridge Line, St. Thomas, Ontario. This event will be held on Sunday, July 15, 2018, from 

11 am to 5 pm.
                                            OUR GOAL                                             
~ To continue our Annual Celebration of Art, Quai du Vin Wine, Food, Music & Fun in Elgin County.
~ To bring a Community of Local and Regional Artists together to feature Original Art for Sale. 
~ To provide a new and exciting forum for Artists to share ideas, and connect with a new and diverse customer base for their work.
ACCEPTED ART MEDIUMS
Mediums include Original works of:  Acrylic & Oil Painting, Watercolour, Mixed Media (2 and 3D), Photography, Glass Work, Metal, Stone or Woodworking, Clay, Pottery, Ceramics, Textiles, Graphite Pencil, Steampunk Design, Sculpture and Original Jewelry.  All works must be for sale by the participating Artist.  Sorry, no Crafters or Store Vendors.
TENT DISPLAY SPACE
Artists have the opportunity to utilize a 10'x10' space under the 'Big Top' Tent (40' x 100'), or they may bring their own individual 10'x10' pop-up style art tents that can be set up on the adjacent grounds.
NEW THIS YEAR  
Selected Artists in Individual 10' x 10' Tents have the option of sharing their tent with one other Selected Artist.  All participating Artists are required to pay $50 whether they are sharing an individual tent or not, or in the Big Top Tent.  
All works should be suitable for display outdoors, and appropriate for all audiences.  Artists must bring their own display tables and chair(s).  Note that this is a one day only rain or shine event. 
Visit the OTW Photo Pages on this website to view the venue.  En Plein Air Painting as well as Artist's Demonstrations and Installations are welcome. Contact us for details.
NOTE ABOUT ORIGINALITY
ALL Artists selected for this event are to display only one-of-a-kind work for sale (no Editions please).   Art Cards / Postcards are the exception.
       APPLICATION FOR ALL ARTISTS ~ CLICK
APSA EVENTS
IN THE TOP BAR FOR INSTRUCTIONS
Newest Articles VIEW ALL
OFF THE WALL.. & OFF THE VINE Call for all Artists Hello Artists!   The Association of Port Stanley Artists (APSA), and the Quai du Vin Estate Winery are pleased to announce the 4th Annual "Off The Wall…and Off The Vine" Art Show, Sunday July 15, 2018!   Last year, we had a great mix of original […]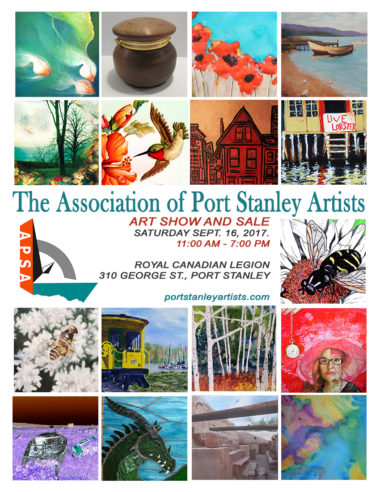 The ASSOCIATION OF PORT STANLEY ARTISTS proudly presents a one-day free art show at the Royal Canadian Legion in Port Stanley Ontario. Head over the bridge and see us at the Legion to your left. The show, from 11 am to 7 pm, Saturday, Sept. 8, 2018,  features resident artists of Port Stanley displaying their […]